---
GENERAL LEDGER (GL) INTERFACE
Freedom of choice… Choose your favorite accounting package and transfer your Scrap Dragon transactions to it without any additional data entry. Scrap Dragon's General Ledger Interface passes accounting data electronically to the most popular General Ledger accounting systems.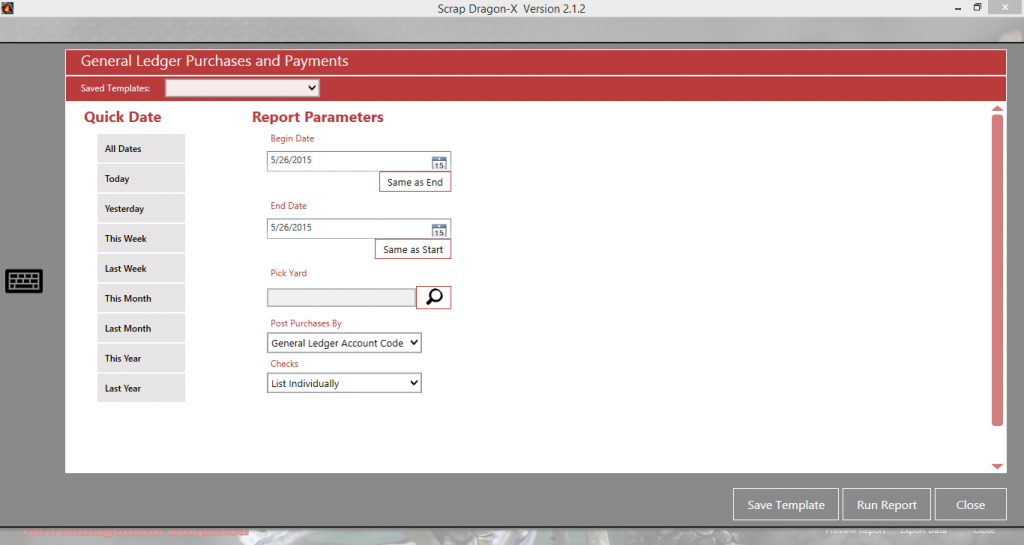 Interface with accounting applications, including Peachtree Accounting®, Quickbooks®, MAS 90®, Great Plains® and Accpac®.
Over 80 built in reports: purchasing, customer, exception, cashier, shipping and much more
All reports can be previewed on the screen or sent to Microsoft Excel
---
General
Scrap Dragon is designed so that accounting data can be passed electronically to any General Ledger accounting system that can accept it. This is done as a 2 step process. The Scrap Dragon data is exported to an intermediary file and then that file is immediately imported into the General Ledger system. The end result is that the data from Scrap Dragon appears in the General Ledger accounting system as if it had been keyed in. Some G/L Accounting systems use batch entry and in those cases, the data will appear in a data entry batch that can be reviewed and edited prior to posting to the G/L. Other systems use direct entry and in those cases, the data will appear already posted.
Inventory
Detailed inventory is maintained in Scrap Dragon in pounds and dollars. It is not necessary to keep an item inventory in the G/L accounting system. In Scrap Dragon each inventory item is assigned a G/L account for Inventory, Revenue and Cost of Sales. Purchases are added to the Inventory account at the actual purchase cost. Sales are removed from the Inventory account and added to the Cost of Sales account at the average inventory cost.
Scrap Purchases – Accounts Payable
Because of the immediacy of most scrap purchase transactions, there isn't time to utilize the accounts payable features of the G/L Accounting system. Instead all of the detail accounting for scrap purchases is completely handled by Scrap Dragon. Scrap Dragon maintains all of the detail information on what is owed and to whom. In accounting terms, this is known as a subsidiary detail ledger. Only summary A/P information is transferred to the G/L Accounting system. This can be done either through a manual journal entry or with the electronic interface.
Summary Scrap purchases can be recorded using either a cash or an accrual method. Using the cash method, the scrap purchase isn't recorded until it is paid for. Using the accrual method, the scrap purchase is recorded when the material is received. The Scrap Dragon electronic G/L interfaces use the accrual method. It is important to do the A/P transfer on a daily basis, because tickets and payments from previous days can be adjusted in Scrap Dragon. Scrap Dragon assumes that any ticket or payment that is adjusted for a prior date has already been transferred to the accounting system and an adjusting entry is automatically created.
To Record the Scrap Purchase
with Sales Tax:
dr Inventory
cr Accounts Payable
dr Sales Tax Expense
cr Sales Tax Payable
To Record Cash Payments:
dr Accounts Payable
cr Cash
To Record ATM Payments:
dr Accounts Payable
cr Cash-ATM
To Record Write Offs:
dr Accounts Payable
cr WriteOffs
To Record Check Payments:
dr Accounts Payable
cr Checking
Scrap Sales – Accounts Receivable
Scrap Dragon handles the entire sale processing up to the creation of the invoice. Invoices are then transferred to the G/L accounting system. A/R balances and reconciling of receipts is handled in the G/L Accounting system. Invoices that are transferred are flagged in Scrap Dragon so that they cannot be transferred again. If an invoice that has already been transferred is subsequently deleted, a credit memo may be automatically generated by Scrap Dragon and sent to the G/L. This is not available for all G/L accounting systems and the credit memo may have to be manually entered into the G/L.
Invoices can be transferred at any time. The G/L account entries made by the invoice transfer are as follows:
To Account for the Money:
dr Accounts Receivable (by customer number)
cr Sales Revenue (by item or group of items)
To Account for the Inventory:
cr Inventory (by item or group of items)
dr Cost of Goods Sold (by item or group of items)
Scrap Dragon Setup
G/L Package – select package name
Transfer Options
Chart of accounts – Enter pertinent account numbers/names for combo boxes
Account identification – Set up the specific required accounts
Customer xref – In customer maintenance, add G/L account ID for 'Bill To' customers only
Inventory Accounts – In Inventory file maintenance, add G/L account numbers for each inventory item.
G/L Packages
Peachtree Accounting – SDF file
MAS 90 (200)- ODBC interface, requires Visual Integrator.
ACCPAC – Dbase format, Invoices.dbf, invoic_2.dbf, invoic_3.dbf
ALERE – Dbase file
QuickBooks – IIF files.
DacEasy
Great Plains
Solomon
MYOB
---
Why doesn't Scrap Dragon include General Ledger Accounting?
There are many fine accounting packages available on the market. There are far fewer good, affordable scrap yard systems. We prefer to focus our development efforts on creating the best scrap yard system that we can and then make it work with the accounting system of your choice. We wouldn't want to force you to use our G/L Accounting system and deny you the opportunity to use one of the far superior accounting packages that are currently available.
Will Scrap Dragon work with my accounting software?
Yes. Scrap Dragon is compliant which the Microsoft Open Database Concept (ODBC) which makes it compatible with most accounting software. Even if your accounting software is not ODBC compliant, Scrap Dragon can still be interfaced using a simple ASCII file transfer. We have already developed interfaces for Peachtree, Quick Books, MAS 2000 and Alere.
Can I buy scrap using Quickbooks?
Yes! To buy scrap using Quickbooks you will need a front-end to input your transactions into QuickBooks and that was the main reason we developed Scrap Dragon!