---
SCRAP DRAGON XTREME – SELL SIDE MODULE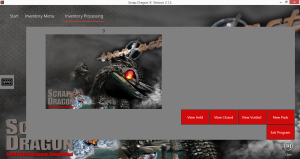 With the addition of the sell side module, Scrap Dragon becomes a total package for scrap yard management. Created with the same design philosophy that made Scrap Dragon the fastest and easiest way to buy scrap, the sell side module brings speed, convenience and accuracy to managing inventory and sales.
Keeping track of your scrap yard inventory is not easy to do and even harder to computerize. True to form, our engineers have developed a simplified inventory model that allows accurate inventory tracking without excessive data entry. Individual inventory packs are created with the same touch-screen simplicity as a purchase ticket and the packs are barcoded and tagged for simple packing list creation.
The inventory status screen displays the current inventory and value of each item in real-time.
The program prints all of the shipping documents including packing list, weigh tickets and bills of lading. Customer invoices can be created for one or more shipments and with our g/l interface module, the invoices can be transferred to your accounting package with no additional data entry.
---
SCRAP DRAGON SELL SIDE DEMOS
INVENTORY MANAGEMENT
INVOICING
SHIPPING
---
SCRAP DRAGON SELL SIDE SCREEN SHOTS
CONTRACT MAINTENANCE
Find contracts faster with auto complete multi field search
Locate contract by any document number
All elements of contract on one screen
User definable drop down lists
Continuous position reporting
Invoice on shipped or mill weights
Display position in any unit of measure
Enter prices in any unit of measure or currency
Free form notes
INVENTORY
Print bar coded inventory tags
One commodity to Multiple inventory items
Percent conversion of commodity to inventory
Shrinkage by percent
Inventory categories support non-inventory items
One to many inventory movements
Distribute material processing output to multiple inventory items based on percentages using weight of a single output
Forecast inventory position
Powerful Inventory Correction Wizard lists inventory items that need adjustments and suggest adjustments to make
SHIPPING & INVOICING
Spot Contract Wizard makes creating a shipment simple and fool proof
Running balance to ship displayed when shipping
Display contract notes
Print delivery tickets, bills of lading and packing lists, invoices
Automatic e-mailing of shipping and invoicing documents
Create an invoice at shipping time
Enter carrier information
Freight Rates by Origin and Destination
Automatically generates 3rd party freight payables
User specified weight tolerance requirements for loose or packed shipments
Profitability reporting
All forms customizable for your company
Create packing lists from available inventory or by scanning tags
Multiple shipments per invoice
Invoices are transferred to your accounting system
---